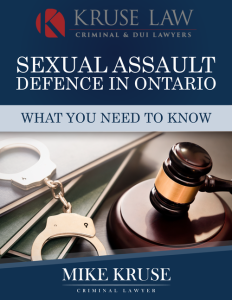 Sexual assault accusations and charges can have devastating and wide-ranging consequences. If you're convicted of sexual assault or a related offence, your life will likely never be the same. You may face a lengthy prison sentence and a crushing stigma that will continue to follow you long after you've paid your debt to society.
Being accused of, arrested for, or charged with a sexually-based crime can be frightening. However, The Canadian Charter of Rights and Freedoms guarantees citizens important rights in any criminal investigation or court proceeding, and cases involving various types of sexual assault are no exception.
Understanding and exercising these rights and having a knowledgeable and experienced Ontario criminal defence lawyer by your side is absolutely vital. Fortunately, you've come to the right place.
At Kruse Law, sexual assault cases have been a major focus of our practice for more than 30 years. In that time, our accomplished legal team – which includes former Crown prosecutors – has successfully defended countless clients and helped them protect their freedom and future. We wrote Sexual Assault Defence in Ontario: What You Need to Know to provide valuable insight into sexual assault charges and the criminal court process. The book provides essential information on:
Your rights and obligations in a sexual assault case
Different types of sexual assault charges and possible penalties
Potential defences in sex crimes cases
The criminal court process
How a skilled lawyer can help you and your case
And much more
Request a Free Copy of Our Guide
Complete the form to request a complimentary copy of Sexual Assault Defence in Ontario: What You Need to Know. Have questions or want to schedule an appointment for a free initial consultation? Contact us online or call 1-800-699-0806.